Can you believe it has been 4 years since the theater was re-opened? We are celebrating the anniversary of the opening by having our 5th Annual Gala this weekend.  Saturday, Aug 25th at 7pm and Sunday, Aug 26th at 2pm.  Do you have your tickets yet? Be sure to get them in the next few days! We need your support for the theater! Tickets are $10 on sale at the Record News and at the Princess Theater.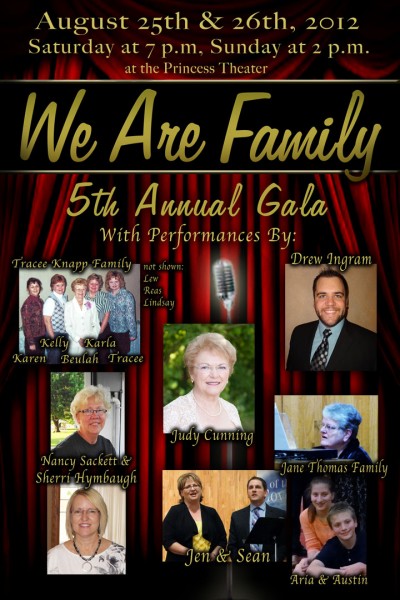 Anniversary Gala at the Princess Theater
Aug 25, 2012
7pm to 9pm
Anniversary Gala at the Princess Theater
Aug 26, 2012
2pm to 4pm
Mount Ayr Record-News
Aug 15, 2012
"We Are Family" is the theme for the fifth annual Princess Theater Gala to be held Saturday, Aug. 25, and Sunday, Aug. 26, at the Princess Theater in Mount Ayr.
Tickets are on sale at the Mount Ayr Record-News and the Princess Theater for the event, which sold out last year.
Those performing this year will include the Tracee Knapp family, Jane Thomas and family, Drew Ingram, Judy Cunning, Sherri Hymbaugh and Nancy Sackett. Click here to read full article that appeared in the Mount Ayr Record-News.