2017 Anniversary Gala – September 16
THE PRINCESS THEATER
presents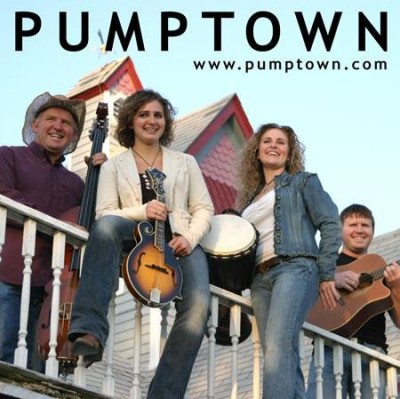 Saturday, September 16th
7 PM
Tickets: $15.00
Tickets available at the door!
At intermission there will be an auction.  Items includes:
ISU Football Tickets, Iowa Football Tickets with Tailgate package, Lakeside Casino Stay-cation, CGI Meat Bundle, Mary Ellen's Bread and Moma C's Take N Bake $25 Gift Certificate.
COME & ENJOY!
2015 Anniversary Gala – August 29-30

 2014 Anniversary Gala – August 28 – 31
In celebration of our 6th Anniversary – Moonlighter's Theatre Group will be putting on "Nunsense" on August 28, 29, 30 and 31st.
It has been 20 years since they originally performed "Nunsense" and are bringing it back to the stage with some of the original cast members.
This Musical-Comedy is about an unfortunate convent cooking accident which causes most of the order of the Little Sisters of Hoboken to die of botulism. Before all of the deceased sisters can be buried, Reverend Mother Superior buys a camcorder and VCR for the convent – resulting in not having enough money to bury the four remaining sisters (which, by the way, are temporarily being stored in the freezer). In order to raise money to bury the four dead sisters, the Little Sisters of Hoboken (well, what's left of them) put on a riotous revue packed with hilarious, show-stopping song and dance numbers.
Anniversary Gala – 2012
Can you believe it has been 4 years since the theater was re-opened? We are celebrating the anniversary of the opening by having our 5th Annual Gala this weekend.  Saturday, Aug 25th at 7pm and Sunday, Aug 26th at 2pm.  Do you have your tickets yet? Be sure to get them in the next few days! We need your support for the theater! Tickets are $10 on sale at the Record News and at the Princess Theater.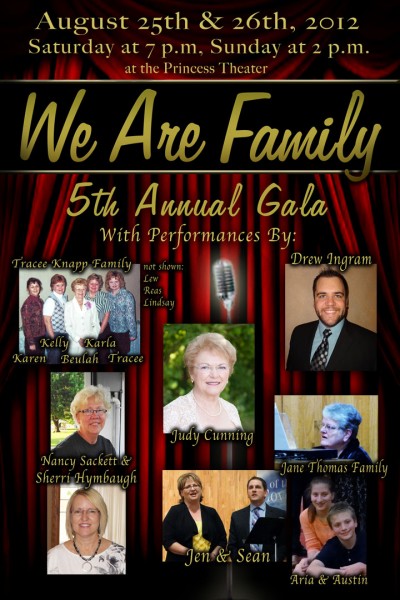 Anniversary Gala at the Princess Theater
Aug 25, 2012
7pm to 9pm
Anniversary Gala at the Princess Theater
Aug 26, 2012
2pm to 4pm
Mount Ayr Record-News
Aug 15, 2012
"We Are Family" is the theme for the fifth annual Princess Theater Gala to be held Saturday, Aug. 25, and Sunday, Aug. 26, at the Princess Theater in Mount Ayr.
Tickets are on sale at the Mount Ayr Record-News and the Princess Theater for the event, which sold out last year.
Those performing this year will include the Tracee Knapp family, Jane Thomas and family, Drew Ingram, Judy Cunning, Sherri Hymbaugh and Nancy Sackett. Click here to read full article that appeared in the Mount Ayr Record-News.
1st Anniversary Gala – 2009
"The Musical Family Affair" will be the first anniversary of the Endowment Gala held on Saturday evening, August 22 and Sunday afternoon, August 23. The Princess Endowment Committee invite you to a very special entertaining event as families share their musical talents. Tickets are now available for the show at the Mount Ayr Record News and the Princess Theater. There will be no movies shown that weekend. More details to follow.
Grand Opening – 2008
Family grows crop of songs for re-opening **Sorry all performances have been SOLD OUT
The Hynek family's musical about a love story in the midst of the 1980s Farm Crisis has been performed at Iowa State University in Ames, the State Fair in Des Moines and an international theater festival in New York City. But when the Ellston-based family of farmer-musicians present the show this weekend in nearby Mount Ayr, they might face their toughest crowd yet.
Many in the audience will remember the economic troubles firsthand, and they'll know whether small details ring true — if Bill Hynek, for example, pretends to steer a tractor in a convincing way or if the bales onstage are really straw when the cast sings about hay.
"That won't work. They'll know it's not hay," said Bill Hynek's wife, Angie, who wrote the script with their 28-year-old son, Joe.
Joe Hynek wrote the first drafts of the musical several years ago and asked the rest of the family to work out some of the kinks. The group, which performs under the name Pumptown, often recorded themselves during road trips.
"It was a great way to get through Nebraska," said Amanda Hynek, 22.
It was also a good way to test out new boyfriends, her father said. None passed.
The family eventually stitched the songs and stories together into a show and first presented it in 2006. Tonight is the first chance for neighbors to see it back home at the Princess Theater.
"It's kind of ironic," Angie Hynek said. "The story came from the 1980s when the theater closed. It took us 25 years to write because it was so painful. … We didn't know if anybody would want to come and hear a rehash of the Farm Crisis, but old guys have come up to us after the show — sometimes with tears in their eyes — and they say, 'Wow, you really got it. You really understand what it was like.' "
"FARMER SONG"
WHEN: 7:30 p.m. tonight through Saturday, plus 2 p.m. Saturday and Sunday
WHERE: Princess Theater, 101 W. Monroe St., Mount Ayr.
TICKETS: $10 for adults, $5 for kids; farmersong.com, (641) 464-2146.
Source: Des Moines Register
We are proud to announce the Grand Opening of Princess Theatre!
In 2005, the Princess Theater Troupe was formed to renovate and reopen the Princess Theater building donated by Philanthropist Paul Ramsey.The Princess Theater's Grand Opening — August 21 – 24, 2008 — is upon us.
Our historic Princess theater is now equipped for both film and live stage productions.It is the home of the Moonlighters Theater Troupe and the Ringgold Singers.
 OUR HOMETOWN THEATER – 2008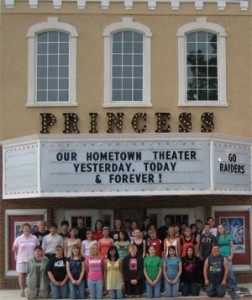 Help us to reach the goal of a $300,000 endowment by March 2010 by making a donation to the Princess Theater Endowment, established at South Central Iowa Community Foundation (SCICF).
Every dollar you give will be matched with $2 from the DEKKO Foundation.
Send your tax deductible gift to:
Princess Theater
P.O. Box 468
400 East Monroe Street
Mount Ayr IA 50854
Make your check payable to: SCICF: Princess Endowment
For tax purposes, a receipt will be sent to you from SCICF (South Central Iowa Community Foundation).
For more information, call Michell Ricker at 641-464-2264 or Martha Landphair at 641-464-2808