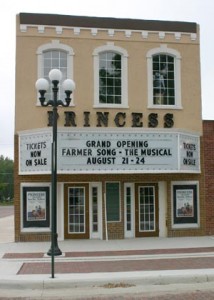 Paul Ramsey was only a kid when he saw his first Shirley Temple movies in the old Princess Theater.
That was before he moved out to California, met the actress in person and built a small fortune as a real estate developer in Hollywood.
But memories pulled him back. When the 85-year-old old Iowa native returned to his home state a few years ago, the theater was an empty shell. Its last movie had long since flickered out, and its years as a plumbing supply store and a bar had taken a toll.
"I only paid $35,000 for this old thing," he said with a nod toward the two-story building, which he donated to the Princess Theater Troupe in 2003. "I can't believe what they've done with it. I never dreamed they'd take the ball and run with it like this."
But run they did. A small army of volunteers raised more than $350,000 and pitched in to spiff up the building inside and out.They've hustled for five years, and tonight when the red curtain rises for the locally written musical "Farmer Song," the Princess will join a growing number of renovated old theaters that are revitalizing towns across the state. Click here to read the full story.
Source: Des Moines Register