The Princess Reclaimed!
The historic Princess Theater at 101 W. Monroe Street in Mt. Ayr, Iowa reopened on Aug. 21 after spending years as a bar and storage space for plumbing supplies. Opening night featured old time events and the live production of Farmer's Song-The Musical, written by Angie Hynek and her son Joe Hyneck. Set during the farm crisis of the 1980s, the musical revolves around a farm family living in small town Ellston, Iowa who come up with a creative way to make a living off their land.
The theater is a historic landmark for the community and having it open again "preserves the whole town square atmosphere," said Angie Hynek, community member and co-writer of the grand opening play that will be staged for the event.
Three years ago, the theatre underwent extensive renovation that touched just about everything from top to bottom. With help from the Dekko Foundation and community support, about $370,000 was raised for the project, which was headed by the Princess Theater Troupe.
"We got innovative and even added a movie viewing screen that can be moved out of the way for live productions," said Pam Poore, Moonlighters Theatre Group president and board member for the Princess Theater Troupe. The theatre is now able to host both movies and plays.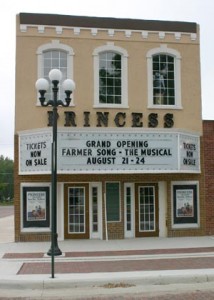 REVIVED THEATER GETS
A SECOND ACT!
Paul Ramsey was only a kid when he saw his first Shirley Temple movies in the old Princess Theater.
That was before he moved out to California, met the actress in person and built a small fortune as a real estate developer in Hollywood.
But memories pulled him back. When the 85-year-old old Iowa native returned to his home state a few years ago, the theater was an empty shell. Its last movie had long since flickered out, and its years as a plumbing supply store and a bar had taken a toll.
"I only paid $35,000 for this old thing," he said with a nod toward the two-story building, which he donated to the Princess Theater Troupe in 2003. "I can't believe what they've done with it. I never dreamed they'd take the ball and run with it like this."
But run they did. A small army of volunteers raised more than $350,000 and pitched in to spiff up the building inside and out.They've hustled for five years, and tonight when the red curtain rises for the locally written musical "Farmer Song," the Princess will join a growing number of renovated old theaters that are revitalizing towns across the state. Click here to read the full story.
Source: Des Moines Register